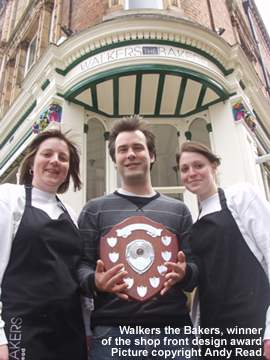 May 2009:  The winner of the public poll to find Stroud's best shop front was announced as more than 60 residents and traders attended Stroud Town Council's Annual Awards Evening in early May.
Walkers Bakery was named as the winner during the evening at St Laurence Church Hall. The shop has undergone a major facelift in the past year. It was one of five nominated by Stroud Civic Society for the annual Design Award. The Poll marked the launch of our new Shop Front Guide aimed at improving the appearance of key streets and properties in the town centre.
Around 250 people took part in the public poll. Walkers was the clear winner with more than 100 votes, beating off competition from the new Stroud & Swindon in King Street, Moonflower in the High Street, the Made in Stroud shop, and SFH hairdressers in Gloucester Street.
More information on the other entries is here.