Summer Programme 2013 (archive)
This is our completed summer programme for 2013.  Our Winter Programme for 2012/13 is below this listing. 
Oxfordshire Delights
Wednesday 12
th
 June 2013
A visit to Ewelme, famous for its church, cloisters, almshouses and school, a beautiful group of medieval buildings, all still in use.  Afterwards we visit Dorchester (Dorchester-on-Thames), a very handsome small town full of half-timbered houses and an outstanding church with a very fine Jesse window.  Once the centre of the coaching trade, the main street is still lined with pubs, where we can have lunch.
The afternoon will be spent at the delightful 18th century Kingston Bagpuize House, surrounded by beautiful gardens where we will have tea.
We leave Stroud (Leisure Centre) at 9.00am and return at 6.00pm
Price: Members £32.00 non members £37.00 (to include coach travel, entrance to Kingston Bagbuize House, a guided tour, a complimentary guide book and tea.
Booking essential – for booking details see top right.
UPDATE JULY 2013: A report on this trip is now available on our blog page.
______________
A Modern Masterpiece and a Gothic Fantasy
Tuesday 23rd  July 2013
The new Coventry Cathedral has remained a masterpiece of modern art and architecture since it was first consecrated in 1962, following a competition won by the architect Sir Basil Spence.  There are magnificent stained glass windows, one by John Piper, the famous Graham Sutherland Tapestry, the magnificent statue of St Michael by Jacob Epstein – and of course, the architecture itself is a revelation.

We will have a special ' Jubilee ' tour giving us every opportunity to appreciate these great works of art and leaving us time to visit the old Cathedral, the medieval Cathedral Square and have lunch in the cloisters.
In the afternoon we will visit the nearby Arbury Hall, 'the gothick Gem of the Midlands'.  This Elizabethan mansion was 'Gothicised by Sir Roger Newdegate during the 18th century and it stands as one of the most complete and breathtaking examples of early Gothick revival architecture.
There are beautiful gardens, wooded walks and lakes and the house remains the home of the Newdegate family.
Price:  £35.00 – members. £40.00- non-members to include coach travel, tour of the Cathedral.  Entrance and a guided tour of Arbury Hall.
Booking essential – for booking details see top right.
______________
Cardiff: from Tiger Bay to Cardiff Bay
Sunday 11th August 2013 
Cardiff was the Coal Metropolis and boom town of late Victorian Britain, its docks handling a greater tonnage of cargo than either London or Liverpool. The port went into long-term decline after the First World War and the city's fortunes only began to recover with the establishment of the Cardiff Bay Development Corporation in 1987 and Welsh devolution a decade later.
Our itinerary includes:
The Edwardian Baroque Portland-stone pomp of Cathays Park, described by Pevsner as 'the finest civic centre in the British Isles'
Cardiff Castle (as reimagined by William Burges)
The city's rich heritage of Victorian and Edwardian shopping arcades
Llandaff Cathedral, with George Pace's remarkable concrete rood screen/arch
The Pierhead Building, all red brick and terra cotta
Richard Rogers's exquisite pavilion for the Senedd (National Assembly Building)
Cardiff Bay Barrage
The expedition will be lead by Tim Mars.  Tim worked and lived in Cardiff in the era between Tiger Bay and Cardiff Bay. Since then he has cast a keen and critical eye over the city's subsequent fortunes – particularly the redevelopment of the historic docks in a hotchpotch of post-modern styles.  He is a uniquely qualified guide to Cardiff old and new- the good, the bad and the ugly
There will be a lunch break in the city centre (feel free to bring a packed lunch) and a stop for tea in Cardiff Bay.
We leave Stroud (Leisure Centre at 9.00am and return by 6.16pm (approx).  Price:  members £25.00 non-members £30.00 to include coach travel.
Booking essential – for booking details see top right.
______________
Winter Programme 2012/13
This is our completed winter programme for 2012/13
A visit to Bradley Court, near Wotton Under Edge
Saturday October 27th at 1.30pm.  Booking essential.
Instead of an October meeting we have been lucky enough to be able to arrange a visit to a visit to Bradley Court,  Wotton Under Edge.
Much of the present house was built in 1559 and held by members of the Berkeley family. Of all the houses in Gloucestershire it is almost the only one that has remained exactly like its illustration by Kip in 1710. Later on various Georgian additions were made at the rear. The furniture designer, Thomas Messel, who has carefully restored it and filled it with fine furniture, now owns the house.
Early booking is advisable as there are only 20 places. Price £8.50 (to include donations to charities) a map will be sent out to those booking places as we will be driving there (Car share would be appreciated).  Please enclose a SAE and make cheques payable to Stroud Civic Society and send to Juliet Shipman, Rose Cottage, The Street, Eastcombe, GL6 7DN
____________________________________
Discovering the Welsh Marches
Thursday November 15th 2012 – 7.30pm
Rory Young
An illustrated talk on the hidden churches and undiscovered houses to be found in the Welsh Marches.
Rory Young is a sculptor and leading worker in lime.
He has recently been commissioned by the National Trust to carve a stone to commemorate Octavia Hill for Westminster Abbey.
(The picture on the left shows a Rory Young stone sculpture commissioned by Cirencester Civic Society)
____________________________________
Christmas Event:  Outing to Highclere Castle ('Downton Abbey') 
Saturday 1st December 2012.  Booking essential.
We have been lucky enough to get a cancellation for Highclere Castle ('Downton Abbey') near Newbury.
Even if you are not a fan of the TV programme there is plenty to see at this magnificent Victorian House including an exhibition of Egyptian objects recently found hidden away – surviving articles  from the Earl of Caernarvon's great Egyptian discoveries (some, of course, from Tutankhamen's tomb).
Nearby is the Sandham Memorial Chapel which contains one of Stanley Spencer's finest works, a set of magnificent murals inspired by his experiences in the First World War and influenced by Giotto's Arena Chapel in Padua.
Price  £25.00  (members) £30.00  (non members) to include coach travel, guided tour of Sandham Memorial Chapel and entrance to Highclere.
Note: entrance to the Egyptian Museum is payable on an individual basis at a cost of £6.  Light lunches are available at Highclere where there is a café. We leave Stroud (Leisure Centre) at 10.00am and return at 6.30pm (approx).  To book please use this Booking Form.
UPDATE: A report on this event is now available on our blog.
____________________________________
Town Planning as if people really mattered
(with a sharp and critical look at Stroud)
Thursday January 17th 2013 – 7.30pm
Hugh Barton
A resident of Stroud, Hugh has recently retired as Professor of Planning, Health and Sustainability from the University of the West of England (Bristol).
He has written a number of books on Town Planning, including  'Healthy Urban Planning'.
Clicking the image on the left should open a video where Hugh is speaking about planning.
UPDATE: A report on this event is now available on our blog
____________________________________
Wooden Churches in Russia
Thursday February 21st  2013 – 7.30pm
Richard Davies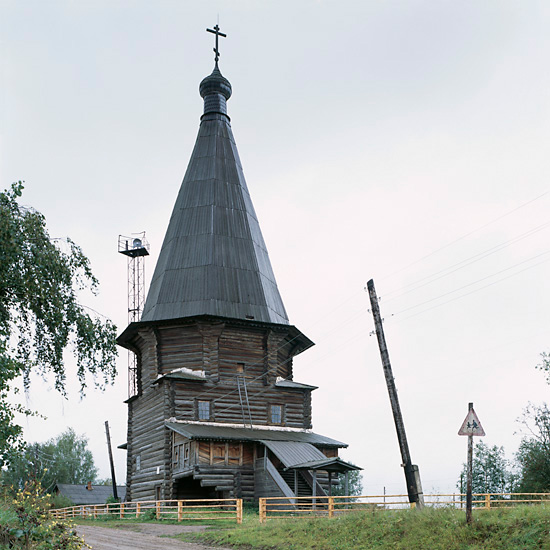 Richard has travelled in the Russian North, photographing the fragile but beautiful wooden churches – now under considerable threat.
Both his photos and the churches are stunning  – have a look at his web site here.
UPDATE: A report on this event is now available on our blog.
_________________________________
Postwar Prefabs – Palaces for the people
Thursday March 21st  2013 (AGM) – 7.30pm
Tim Mars
The 1944 Temporary Housing Programme resulted in 156,623 prefabricated houses being erected to a number of standard designs on sites across the UK– including Cam and Leonard Stanley.
Designed for a 10-year life, they turned out to be more popular and durable than anyone could have foreseen. To the point that several have been listed and many tenants are resisting attempts to rehouse them and demolish their beloved bungalows to this day.
Tim Mars has long been fascinated by prefabs and has made a point of seeking them out and photographing them up and down the country.
UPDATE:  A Report on this meeting is now available on our blog.
_________________________________
Blitzed! War artists in Bath
Thursday April 25th  2013 – 7.30pm
David McLaughlin
As a conservation officer in Bath, David was involved in many projects and worked on the Roman Baths.
He was guest curator for an exhibition at the Victoria Art Gallery– ' Blitzed' when he uncovered works by John Piper and other artists and in his talk gives a fascinating picture of Bath during the war years.
He now has his own firm of Conservation Architects and Building Historians.
UPDATE: An account of this meeting is available on our blog here.