Summer Programme 2016 (completed)
Indian Splendour in the Cotswolds:
A Look at Indian Influence on Local Architecture
Wednesday 22nd June 2016
Sezincote and Daylesford are two great houses inspired and influenced by 18th century links with India. Sezincote, a Mogul palace with grounds which owe much to Humphrey Repton while having many fascinating Indian features in the gardens: gigantic elephants, Brahmin Bulls and carvings of Krishna. The house, designed in 1805 by Samuel Pepys Cockerell, is thought to be the inspiration for the Brighton Pavilion.
Nearby is Daylesford House (home of Lord and Lady Bamford) also designed by Cockerell for Warren Hastings, first Governor General of India. The gardens and grounds are stunning, with a rose garden, walled organic vegetable garden, orchid house and even a secret garden with a grotto.
In the morning we visit Sezincote for a private tour of the house. Lunch there will be our own picnics, eaten in the gardens or in the fabulous orangery if it is raining. In the afternoon we visit Daylesford to glimpse the house and view the gardens which are only open once a year under the NGS scheme.
Price £30.00 (non members £35.00) to include coach, tour of Sezincote and entry to the garden at Daylesford (teas available there). Closing date for booking June 14th.
Booking essential: Please use the booking details given above (top right) on this page. If viewing on a mobile or tablet the booking information can be found on our Contacts Page.
_______________
W D Caröe, the architect of St Mary of the Angels, Brownshill
Saturday 6th August 5.30pm – 7.30pm
An early evening talk with wine at the Arts and Crafts Church, St Mary of the Angels, Brownshill.
The Church of St Mary of the Angels is a small but fascinating building with an equally fascinating history. It was built in 1937 to serve a community of nuns. The architect chosen was W. D. Caröe, then in the Indian Summer of a long career, and was his only Roman Catholic commission. He was not only an architect of striking originality but also a distinguished designer of furniture, metalwork, sculpture and embroidery.
Caröe's practice was wide-ranging and his projects are dispersed throughout England, Wales, the Isle of Man, Scandinavia, the Near East, Southern Europe and North America. He built more than 30 new churches—Anglican and non-conformist.
His influences were eclectic and St Mary's mixes styles with a vengeance—'Romanesque with a hint of Baroque' says Alan Brooks in the Pevsner volume. Inside the view east is dominated by a Norman chancel arch and a Byzantine apse, while at the west end there is a gallery with Swedish echoes, approached up an unusual stair with triangular treads.
The interior features windows by Douglas Strachan, described as 'the greatest Scottish stained glass artist' by Peter Cormack, author of the definitive Arts and Crafts Stained Glass.
The nuns finally left Brownshill in 2006 and there was considerable concern about the future of the building. Happily it is now in the care of the Friends of Friendless Churches.
Alec Hamilton is a well-known speaker on the architecture of the Arts & Crafts. He has recently completed a doctoral thesis on 'The Arts & Crafts in church-building in Britain 1884-1918'.
W. D. Caröe was, unusually for an architect of the period, a committed Christian. His relationship with the Arts & Crafts was uncomfortable—he never joined the Art-Workers' Guild, and Eric Gill, who worked in his office, condemned his taste for the theatrical.
He was undoubtedly capable of great originality, and Alec will talk in detail about some 10 of his churches, including Brownshill, and touch on several other unregarded gems.
Price £7.50 for members and local residents and £10 for all others. Price to include wine and a donation to the Friends of Friendless Churches.
Booking essential – please use the booking form available by clicking here or use the booking information above.
Please note There is no parking at the church but parking is available within a short walk.  There are also fairly steep steps down to the church.
_______________
Visit to Deerhurst Church and Forthampton Court
Saturday 20th August 2016 (booking essential)
St  Mary's at Deerhurst is one of the finest and most complete buildings to survive from before the Norman Conquest. A substantial part of the building is now considered to belong to the first half of the 9th century and there are some magnificent Anglo-Saxon sculptures and much more; wall paintings and medieval stained glass.
There will also be an opportunity to visit Odda's chapel, another nearby Anglo-Saxon building.  We will have a guide from the Friends of the Church.
Lunch will be in Tewkesbury and there will be an opportunity to explore the Abbey before going on to Forthampton Court. This was once the country residence of the Abbots of Tewkesbury and the Great Hall (where we have tea) survives from this period. There were additions in the 18th century by Antony Keck and considerable work was carried out later by the Arts and Crafts architect Philip Webb.
The house is surrounded by beautiful gardens with views across to the Abbey while the 19th century green houses have been restored and are now in full working use.  The manor has been continuously owned by the Yorke family since 1726 and we will be welcomed by John Yorke.
Booking essential:  Price £27.00  (non members £32.00) to include coach travel and a private visit with tea at the Manor House.  The coach leaves Stratford Park Leisure Centre at 10.30am and returns at 6.30pm. The number of places on this visit is limited to 24 so early booking is recommended.
To book please use the booking form available by clicking here or use the booking information above.
_______________
Lypiatt Park, Heritage Open Day
Sunday 11th September 2016  1400-1800 (booking essential)
We are pleased to announce that once again we will have our Heritage Day Opening at Lypiatt Park, this time thanks to Gallery Pangolin's sponsorship and the Chadwick family's blessing.
This is a unique opportunity for members and others to come and see the late, world famous sculptor Lynn Chadwick's sculptures displayed in his glorious parkland setting, many still positioned where he originally sited them. 
Gallery Pangolin, our sponsors, celebrate their 25th birthday this year.  There will be information and instructions at Lypiatt Park on how to get to their nearby gallery if you would like to see their spectacular birthday exhibition, of among other works, a collection of stunning silver sculptures.
Booking essential.  Application forms available at Stroud Information Office or call 01453 760960 to be emailed a form. Information Office. Booking opens: 30 August 2016
Access
The Park is not suitable for very small children and anyone with mobility problems as there are a number of steep, rough footpaths and areas of open unguarded water.
Directions
Entrance on the Stroud Bisley road, about 3 miles out of Stroud and 2 miles from Bisley.
_______________
New day or false dawn? 
Birmingham: From Victorian civic triumph to the postwar concrete catastrophe and afterwards
Saturday 1st October
A tour of Birmingham and Bournville (plus a tram ride to West Bromwich) led by Tim Mars
It's an exciting time for Birmingham, with trams returning to the streets after 62 years, the transformation of Birmingham New Street Station with a sinuous stainless-steel façade and a spacious concourse flooded with daylight, and the opening of the new Library of Birmingham. The city is making heroic attempts to escape from the jungle of ring roads, tunnels, flyovers, pedestrian subways, multi-storey carparks, identikit tower blocks, subterranean shopping centres and railway stations bequeathed it by postwar planners and developers.
Up to a point. The concourse at New Street Station may be light and airy, but that's because it's been commandeered as a glitzy 'premium retail and dining destination'—and rebranded Grand Central. The platforms below remain in Stygian gloom, a dark and dismal diesel slum. Almost all the £650m budget has been spent upstairs, facelifting and titivating Grand Central. Very little of the dosh has found its way downstairs to the actual station, where not a single additional platform has been added to address chronic capacity problems.
And while the new Mecanoo-designed library has been a great success, the old Central Library—a Brutalist inverted ziggurat designed by John Madin and described by the Pevsner Architectural Guide as 'the first Birmingham building of European importance since the early 1900s'—is being torn down despite a vociferous campaign and two applications to list it.
And in the 15 years it took to extend the single 13-mile Midland Metro tramline by just half a mile onto the streets of Birmingham, Manchester's Metrolink built five new lines—tripling its network from 19 to 57 miles.
So is it second time lucky for England's second city? Is it possible to break free from the baleful clutches of city engineer Herbert Manzoni's postwar dream of concrete and cars? Or is Brum just swapping Brutalism for a superficial veneer of postmodern bling?
We will explore Birmingham's evolution from a mediæval timber-framed town, through the Industrial Revolution, Joseph Chamberlain's pioneering 'municipal socialism', Manzoni's postwar depredations and down to the po-mo architectural allsorts of the present day through the buildings, streets and structures that have marked its growth and development—including a tour of Bournville, Cadbury's idyllic model village, and a chance to hear its 48-bell carillon.
We will also ride one of the new Midland Metro trams to West Bromwich to marvel at The Public, Will Alsop's disastrous and egregious digital 'fun palace'. Condemned as 'a gross waste of public money' by the House of Commons Culture, Media and Sport Committee, it was forced to close after just five years and £72m to be ignominiously re-purposed as a sixth-form college.
Tim Mars will share his knowledge and enthusiasm for the city in an eclectic, wide-ranging and freewheeling tour. He has enlivened previous expeditions to Swindon, Bristol, Cardiff and Oxford with his erudition, passion and humour.
Coach departs Stroud Leisure Centre at 9.00 am, returning after 7.00 pm. There will be a break for coffee in the morning at England's most spectacular interwar pub (The Black Horse, Northfield) and for refreshments at the end of the day at Birmingham's most spectacular Victorian pub (The Bartons Arms). There will be a short break for lunch in the city centre, but you are encouraged to bring a picnic.
Booking essential:  Cost: £35.00 members, £40.00 non-members (to include coach travel, guided tour, tram fare and gratuities).
Cheques (payable to Stroud Civic Society) should be sent to Juliet Shipman, Apartment B, Field House, Field House Gardens, Stroud GL5 2JX
01453 751751
julietshipman@hotmail.com
Click here to download a booking form. Confirmation and further details will be emailed unless you enclose a stamped self-addressed envelope.
Winter Programme 2015/16
Thursday November 26th 2015
Ecotricity's Eastington Eco Park – Greentech or Greenwash?
Panel of speakers 
Update: Our meeting to discuss the proposed Eco-Park at Eastington generated a huge amount of interest, with lively debate at the meeting. Newspaper coverage included the Stroud News & Journal, Stroud Life, and a discussion on BBC Gloucestershire's Mark Cummings Show  An outline report on the media coverage and some other aspects of the meeting is available on our blog page here.
Is the proposed Eco Park a 'centre of excellence for sport and green business' or just another out-of-town business park? Some background information on the issues and plans is given below.
The Civic Society plans to take a closer look at this proposal, to understand what is involved and to hear arguments for and against the proposal and to consider any concerns people may have about the plans. Some of the concerns raised so far are summarised in our blog post about the meeting. Click here to visit that page.
We will have a panel of speakers including:
David Drew, Vice Chairman of Forest Green Rovers
Simon Pickering, Ecotricity's Senior Ecologist & Green District Councillor for Slade Ward
Alison Williamson, Environmental Planner at Ecotricity
Hugh Barton, Emeritus Professor, Planning, Health & Sustainability at the University of the West of England
Stephen Davies, Conservative District Councillor for Eastington and Standish
Context: This is likely to be a very lively debate on the most significant and contentious greenfield development proposal since Gloucester Motorway Services at Whaddon. Ecotricity and Forest Green Rovers have run a series of drop-in sessions as part of their public consultation exercise, but this is the first opportunity for a public discussion of the pros and cons of the scheme, with a range of viewpoints represented and contributions from the floor welcome.
Background: The proposed EcoPark is a multi-million pound 100-acre sports and business facility located beside Junction 13 of the M5 near Eastington. Ecotricity says: 'It will be a place where green businesses and technology companies come together and share ideas, a real focal point of creativity and innovation for the area—and a part of the green industrial revolution that's beginning to take off around the world.'
Half of the EcoPark will be dedicated to creating state-of-the-art sporting facilities, including a 5,000 capacity all-seater stadium for Forest Green Rovers, training fields, 4G pitches, multi-disciplinary sporting facilities, as well as a sports science hub.
The other half will comprise a green technology business park with sustainably built commercial offices and light industrial units potentially capable of hosting up to 4,000 jobs.
Another part of the site will become a nature reserve, while the overall concept also includes working with the Cotswold Canals Trust to open up part of the 'missing mile' of the Stroudwater Canal on either side of the M5.
There are also plans to upgrade various roundabouts along the A419, dual some carriageways and the potential to develop a public transport hub—including a Stroud Park and Ride.
Admission: Members £2, Non-members £3.
7:30pm, Thursday 26th November, Old Town Hall, The Shambles, Stroud GL5 1AP
____________________________
Wednesday December 16th
A Christmas visit to Tyntesfield

'Tyntesfield all aglow' is the title of the special programme at this spectacular Gothic mansion near Bristol – so our visit starts with a buffet tea, with sandwiches and cakes, mulled wine and mince pies in the Cow Barn Cafe then just before 5.00pm we go up to the house which will be specially open and lit up, with attendants in Victorian costume.

At 6.30pm we go to a concert in the nearby chapel, an outstanding Gothic masterpiece, modelled on Sante Chapelle in Paris. The choir, 'Barley Rye' will perform a programme of folk carols, traditional carols and wassail songs.
Price £37.00 members. £42.00 non members, to include coach travel, buffet tea, mulled wine, mince pies and concert ticket. Entry to house free to NT members. £5.00 for non NT members which will be collected on the day.
Please book using the booking form available by clicking here.
We advise early booking as tickets to the concert and the house viewing have to be prebooked and last minute tickets to these may not be available. We leave Stroud at 2.30pm (2.15pm at Eastcombe) and return at 8.45pm. Please notify Juliet Shipman for pickup at Eastcombe.
____________________________
PLANDEMONIUM 2 Just when you thought it was safe to start talking to the planners…
Speaker: Rob Cowan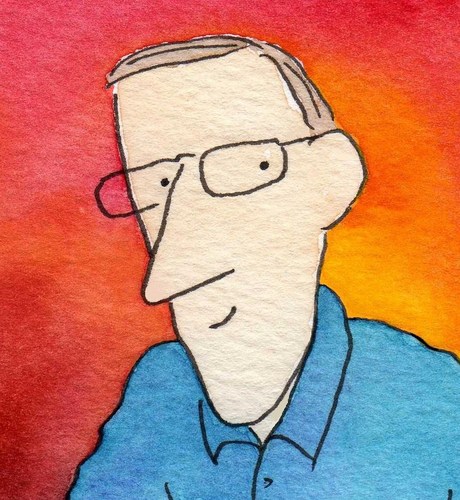 For a write-up about this talk click here
Fuller advance information about this talk was posted here. 
After his sell out presentation at our 2014 AGM, Rob Cowan returns to cast his quizzical and critical eye over the further foibles and follies of the planning system.
Mr Cowan is a Director of the Urban Design Group concerned with improving the standards of urban design to raise the quality of life in our towns and cities.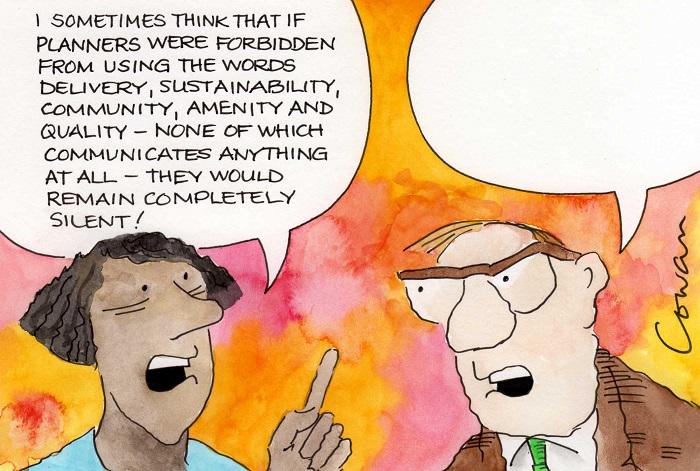 The talk will be illustrated with his own popular cartoons.
Admission: £2 members, £3 non members
____________________________
The Cotswold House
Speaker: Dr Tim Jordan
Update, March 2016: For a written account about this talk click here to visit our blog page. 
The Cotswold House written by Tim Jordan and Lionel Waldron is the first book to give a complete overview of both the social and architectural history of homes in the Cotswolds ranging from humble cottages to elegant manor houses. Lionel Waldron was the well known Curator of Stroud Museum who has had an abiding interest in the local architecture.
Dr Tim Jordan, our speaker for this talk, is a retired university lecturer with a long standing interest in and knowledge of the local vernacular architecture. He is also the author of another book on Cotswold buildings entitled Cotswold Stone Barns.
Admission: £2 members, £3 non members
____________________________
AGM followed by
Canals in the Landscape
Speaker: Tony Conder
Update: There is now an account of our AGM and Canal talk on the blog here.
AGM documents are available to download here:
 – AGM notice
 – Accounts summary 
This talk, which will be illustrated with pictures of canals both local and national, will look at the physical challenges that landscapes set the canal engineers and how they overcame them. It moves on to look at how in turn the industrial changes that canals were at the heart of changed the landscape and the country.
Tony is retired from a career in Museums, he lives in Gloucester and volunteers for the Civic Trust as a guide. He moved to the county to open the National Waterways Museum in Gloucester Docks in 1988 working on the waterways for 25 years in total.
Admission (to include a free glass of wine): £2 members, £3 non members
Summer Programme 2015 (Archive)
Friday 17th July 2015
In this corner of Wiltshire are three beautiful Manor Houses, Iford Manor is famous for its old Italian style garden owned and designed by Harold Peto. It houses Peto's collection of mainly Italian architectural items, which he collected on his travels.
A former architect who once worked with Lutyens, he designed several famous gardens, including the Italian gardens at Buscot Park. Built on a steep hillside, visitors can wander along the terraces with their statues and pools and for a brief moment, imagine they are in Italy.
Nearby is Westwood Manor, a small 15th century Manor House with 16th century additions – and an amazing topiary garden. 
The afternoon is reserved for an outstanding house and garden – Great Chalfield Manor "Long a front runner in the best medieval manor stakes," writes Simon Jenkins. The house was built around
1470 and has a great hall, moat, barns and a gatehouse. There are fine Elizabethan plasterwork ceilings, panelling and wall paintings. The Arts and Crafts garden, hopefully full of roses at the time of our visit, is in a beautiful setting with the church nearby.
For lunch we will stop in Holt. Members can either visit the deli/café at the Glove factory (we recommend it) or go to the Courts, a National Trust Property with a café and an area to eat picnics. 
Itinerary: Eastcombe 8.45am, Stroud Leisure Centre 9.0am: Leave Great Chalfield Manor at 4.30pm arrive at Stroud Leisure Centre at 5.45pm and Eastcombe at 6.00pm 
Price: £37.00 for NT members. Non-NT members please add £7.50. To include Coach travel, entrance and morning coffee at Iford Manor, entrance to Westwood, entrance and tea and biscuits at Great Chalfield Manor (note all visits are private).
Booking essential – use booking form here or contact details above right.
Arts and Crafts Stained Glass
Saturday August 8th 2015

Arts and Crafts church, St Mary of the Angels, Brownshill,  6.00pm to 8.00pm, with Peter Cormack
Peter Cormack is the leading expert in Arts and Crafts stained glass and formerly curator of the William Morris Museum in Walthamstow. His definitive work, 'Arts and Crafts Stained Glass' is being published in June and he will be signing copies of this major new work.
The Church is a small but fascinating building with an equally fascinating history. It was built in 1937 to serve a community of nuns. The architect chosen was W.B. Caroe and this was his only Roman Catholic commission. He was a major figure in the Arts and Crafts Movement, not only an architect of striking originality but also a distinguished designer of furniture, embroidery, metalwork and sculpture.
The interior has four glowing windows by Douglas Strachan, Scotland's foremost stained glass artist. Hence the subject of our talk.
The nuns finally left Brownshill in 2006 and there was considerable concern about the future of the chapel. Eventually it was taken under the wing of the Friends of Friendless Churches.
Note there is no parking at the church but parking is available within a short walk. There are also fairly steep steps down to the church.
Tickets: Members of Stroud Civic Society & Local Residents £10.00. All others £12.50
Booking essential – use booking form here or contact details above right.
Lypiatt Park, 13th September 2015
We have now confirmed that we will again be visiting Lypiatt Park for Heritage Open Day on 13th September. For more details click here.
SWINDON: God's Wonderful Railway, Wiltshire's wannabe city
Saturday September 19th 2015
A tour led by Tim Mars – full details are available by clicking here 
Swindon will not top anyone's bucket list, but there is more to Wiltshire's largest and fastest-growing conurbation than meets the eye. It has a rich and varied history, including a crucial rôle in the development of the railways—and the GWR Medical Fund Society, founded in 1847, provided Aneurin Bevan with a blueprint for the NHS 100 years later. 
We will explore Swindon's history through the buildings, streets and quarters that have marked its growth and development, from the Old Town on the hill, through the massive upheaval following the arrival of the Great Western Railway at 'New Swindon' in 1840, to its hugely ambitious—and ongoing—post-war expansion after designation as an Expanded Town in 1952.
There are many hidden gems, one or two real curiosities and a host of fascinating and unexpected nooks and crannies. Full details of the trip, with pictures of many of these sites, are available by clicking here.
Tim Mars has enlivened previous tours of Bristol, Cardiff, Oxford and Birmingham with his knowledge, enthusiasm and humour. In 1962, Betjeman declared he had come to love Swindon because of its people. Fifty years later, Tim has come to love it in spite of them.
Coach departs Stroud Leisure Centre at 9am (8.45am at Eastcombe), returning 6.30pm. There will be a break for lunch in the town centre—or feel free to bring a packed lunch.
Full details are available by clicking here.
Price: £25.00 members, £30.00 non-members, to include coach travel and guided tour.
Booking essential – to book use the booking form HERE.
UPDATE October 2015: Bill Hicks has uploaded a series of pictures from our Swindon tour to his Facebook page. You can view them by clicking here.
___________________________
Winter Programme 2014/15 (Archive)
Thursday October 23rd 2014
The Architecture, Sculpture and Symbolism of a Victorian Garden Cemetery
Alan Bambury 
Alan Bambury and his wife are guides at the famous Victorian Garden Cemetery at Arnos Vale in Bristol, a place of heritage containing many listed buildings and monuments of regional, national and international importance. In his talk Alan will show many examples of these and discuss the symbolism of the epitaphs carved upon them.
Admission: Members £2, Non-members £3
____________________________
Thursday November 27th 2014
DISASTER WAITING: The Severn Bridge Disaster
Paul Barnett
It is often forgotten that once a railway bridge linked both sides of the River Severn and the trains played a vital part in local life.
One catastrophic night the bridge was destroyed in spectacular and tragic fashion.
Paul Barnett, now a very well known local speaker who has worked so hard to save the Purton ship hulks, will give an illustrated account of the bridge's construction, its day-to-day operation, and its eventual destruction, using rare and never before seen images.
Members £2.00 non members £3.00
____________________________
Sunday December 7th – Our 2014 Christmas Event 
A Christmas Visit to Baddesley Clinton and Packwood House
A visit to two delightful Warwickshire properties (both National Trust) – Baddesley Clinton is a romantic, moated medieval manor rescued from dereliction in 1867 by its new owners (a fascinating quartet).
Nearby Packwood House was saved, restored and re-furnished in the early 20th century by Graham Baron Ash (who bought much of the furniture from Baddesley Clinton).  It is famous for its topiary garden and we will have a private tour of the garden.
Both houses will be decorated for Christmas, reflecting the style and period of these new owners. We will have lunch at Baddesley Clinton, a two/three course meal in a private room and tea at Packwood House.
Times: We leave Stroud by coach at 9.00 am and return at 5.45 pm (including a pick up in Eastcombe).
Costs: £35.00 (to include coach and 2 course lunch.) or £38 (to include coach and 3 course lunch). Menu available on booking but includes a veg option.
Entrance is free to Baddesley Clinton. It is free also to NT members to Packwood. We have a number of Civic Trust vouchers available for entrance to Packwood, which should cover non-NT members.
Booking: Details of how to book are given at the top of this page, on the right. Or use the downloadable form here.
____________________________
Gloucester Motorway Services: Food, Community, Sustainability,  Society
With the southbound services due to open this summer, hear the story behind the spectacular new motorway service area on the M5 from the people behind it — and why it's been winning accolades and awards since it opened eight months ago.
Gloucester Services is unique in combining the local/farm/family model of Tebay services in the Lake District with a social/charitable/community dimension.
Gloucestershire Gateway Trust initiated the whole project as a means of providing future income, training and employment opportunities for local communities.
Speakers:
Sarah Dunning – Chief Executive of Westmorland Family business
Mark Gale – Chief Executive of Gloucestershire Gateway Trust
James Spencer – Glenn Howells Architects
Admission: £2 members, £3 non members
A report on this meeting is available on our Blog page
____________________________
Thursday 26th February 2015
STORE WARS: 
A new town centre supermarket for Stroud
or yet another out-of-town superstore?

7:30pm, Old Town Hall, The Shambles, Stroud, GL5 1AP
STORE WARS: A new town centre supermarket for Stroud…


… or another out-of-town superstore…


… or might we end up with both?
Would an M&S Simply Food store be good for Stroud?
There are proposals for a new supermarket on the Market Tavern site in the town centre and for three out-of-town superstores—of which ASDA on the Daniels Trading Estate at Lightpill had been recommended for approval at a Development Control Committee meeting last September. That meeting voted to defer a decision to allow Setminds, owners of the Cornhill shopping centre and the Market Tavern site, to work up their proposals for a town centre supermarket. Setminds has confirmed 'the clear intent of Marks and Spencer to come to Stroud town centre'.
Is it at least preferable to another out-of-town superstore?
These proposals, together with Avocet's application for the Stroud Metal's Dudbridge site and ASDA's proposals for the Daniels Industrial Estate at Lightpill, are now due to be heard by the Development Control Committee on 14th April. The ASDA application has also gone to appeal for non-determination, as has Property Alliance Group's proposals for Brunsdons Yard at Ryeford. Setminds argues that 'the ASDA application for the Daniels site or any major supermarket on that site is likely to be fatal to M&S coming to Stroud and put in doubt the future viability of Stroud town centre'.
Or are there better uses for the Market Tavern site?
There are a range of views about a new town centre supermarket.
Some (including traders) are opposed, believing independent retailers would be damaged.

Others (including traders, Stroud Town Council and members of Stroud Against Supermarket Saturation) are broadly in favour, believing it will rëinforce the town centre, benefit existing traders, and possibly see off ASDAgeddon.

Others still would prefer the site retained as a pub or put to a different use.
There are also different views about the prospect of another out-of-town superstore, with some people welcoming the increased choice and competition while others warn of the damaging effect on shops and traders in Stroud.
At the meeting we will explore and debate as many viewpoints as possible in what is the most important planning issue facing Stroud at the current time.
SPEAKERS
Hugh Barton Emeritus Professor of Planning, Health and Sustainability at the University of the West of England
Lucas Shoemaker Stroud Town Councillor
Matthew Large Managing Director, Stroud Metal Company (Avocet Dudbridge site)
Joanne and Stella from Stroud Against Supermarket Saturation
Fiona Carlyon-Mills co-owner of Moonflower and Moonflower Too, trading in town since 1979
Admission: £2 members, £3 non members
____________________________
CHANGE OF DATE 26th March  now 23rd April 2015 
AGM followed by 
BRUTALISM – Maligned, misunderstood, miscegenated child of Modernism
In popular discourse, 'brutalist' has come to mean aggressive, assertive, oppressive concrete buildings of the late twentieth century. Yet 'The New Brutalism' as originally defined was not confined to concrete and meant something much more nuanced.
Brutalist buildings are now critically endangered in the way Victorian architecture was after the Second World War.
A number of its most striking monuments have already been demolished, are currently being demolished or are under threat.
Is it time to take a fresh look at the history, theory and built artefacts of this controversial architectural movement before it's too late?
An illustrated talk by Tim Mars.
Admission (to include a free glass of wine): £2 members, £3 non members.
____________________________
CHANGE OF DATE 23rd April  now 14th May 2015 
Thursday 14th May 2015
Shaping the heart of Stroud
Hugh Barton, Emeritus Professor of Planning, Health and Sustainability at the University of the West of England
What is the future for Stroud town centre? By the time of this event, the voluntary group preparing a 20-year Neighbourhood Plan on behalf of Stroud Town Council should have a draft ready to submit to the Council.
It will include radical proposals for new pedestrian/cycling links, joining up Stroud, and proposals for integrating the restored canal into the town.